Pino Signoretto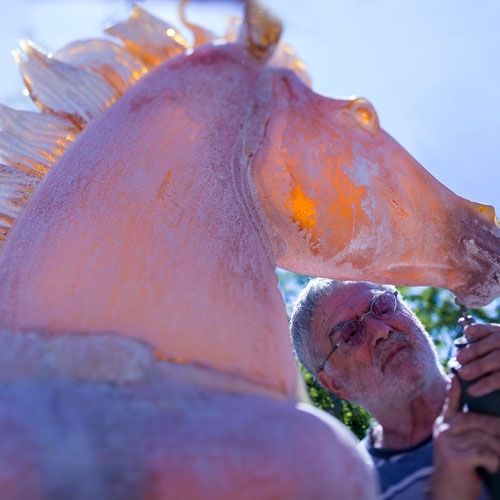 When meeting Pino Signoretto you grasp the fact that mastery is the child of humbleness and experience. His hands are his tireless companions: they impose shape on the glass, a kind of material that is difficult to work. Glass does not allow waiting or rethinking: either the piece of work is completed or it is thrown away.
His family was not a historical one of glassmakers but in someway of artists. His father played music and painted houses. As a child in Murano, he lived near a glass furnace and was immediately fascinated by the glass furnaces and fire. He began to work, very young, in a glassworks where chandeliers and small objects such as bonbonnières were made.
Student of the master Alfredo Barbini, at 19 of age, Pino Signoretto was already a Glass Master. It was he who introduced new techniques and tools to this art such as borsea ricurva (curved and no longer flat tongs) in order to better grasp the objects and the oxy-hydrogen torch in order to heat the sculpture in a more precise manner. It is curious to see him at work with forks (the ones you use in the kitchen) and pins that he uses to create perfect shapes.
He has been the guest of Heads of State on several occasions, an honorary citizen of New Orleans, an instructor at several schools in the United States and France; Pino Signoretto's glass works are one of the ways by which beauty takes shape in Murano. A Master of great fame, he is renowned worldwide for his extraordinary talent.